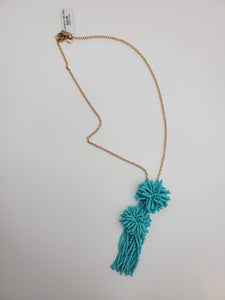 Baublebar Turquoise Blue Necklace with Lightweight Golden Chain
A modest lightweight golden gain featuring a POP pom pom of color with tassel towards the featured end.  This baubalbar piece will make a statement without saying you are doing so.
Founded in 2010, Baublebar has grown from an idea of 2 enterprising women from New York City, to a leader in contemporary fashion jewelry.  If success was measured in fashion jewelry, Baublebar would be at the top of its class.  Baublebar believes that fashion should be fun and spark happiness.  Growing collaborations with Bloomingdales, Nordstorm, Anthropology & other fine retailers; Baublebar has been recognized by the worlds leading retail buyers as a true representative of what it means to be "on trend".  

"We believe in the fashion philosophy that you should invest in the
essentials and play with trends. So, we created the ultimate playground."
                          - Baublebar
---
We Also Recommend
---