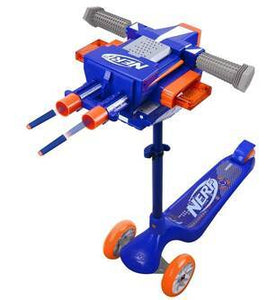 NERF Blaster Scooter
Blasting on the go just got epic, with the Nerf Blaster Scooter! This is the ultimate blasting vehicle featuring rapid fire, dual barrel power on a smooth and responsive 3 wheel scooter Easy- reach trigger buttons, steel enforced deck & brake and oversized PU wheels provide a safe and fun ride.
Charge into battle or get out of the mayhem fast on the Nerf Blaster Scooter with ultimate blasting power.
Includes 2 clips with 12 darts and instruction manual.
Compatible with other Nerf products.
Suitable for age 6 years and up, (175 lbs max scooter capacity )
6 C Batteries required. Assembly Required
FIRES UP TO 40 FEET! Dual barrel blaster with simple trigger buttons, includes 2 cartridges with 6 darts each
PREMIUM 3 WHEEL SCOOTER! Adjustable height, steel frame, extra large rugged PU wheels and easy step brake.
COMPATIBLE WITH MANY OTHER NERF PROUDUCTS! Dual trigger rapid fire action with access door to clear any jams.
RAPID FIRE TECHNOLOGY! Hold down the trigger as you scoot towards your target! 6C Batteries required.
FUN FOR AGES 6 AND UP! Up to 175 lbs., Assembly Required
Warning: Always wear protective gear including helmet , elbow and knee pads. Always ride on well-lit even surfaces free of traffic.
---